I think every year I think about how crazy time flies. I can remember where I was 365 days ago and almost every day in between. There's a quote I've been seeing frequently the last few months. About how you can be in a totally different place/situation at the end of the year than you were at the start of the year. I can raise both of my hands to that. The New Year came around so fast I didn't even take time to think of resolutions before the 1st. I did take some time and decided to keep my list short and sweet this year.
What are your New Year Resolutions for 2018?
​

Powered by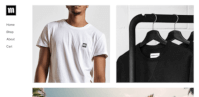 Create your own unique website with customizable templates.